In Motion: Parkinson's Community Exercise Program
Mondays & Wednesdays 1:00-2:00 at the WSU Hughes Metroplex January 21st -May 8th (no classes March 11th and 13th ).
This program is designed to fight the progression of Parkinson's Disease by engaging the brain and the body in specially designed exercise programs. Anyone with Parkinson's is welcome to attend, caregivers are also welcome to attend and the program is offered at no cost. You do not have to attend every class so join anytime! For more information email: jacquelyn.kempf@catholiccarecenter.org

At Catholic Care Center our associates go the extra mile to provide the care that the residents and families deserve, but one associate, Walter Manuel, was going even further riding over 7 miles each way on his bicycle because of his dedication to our ministry. His supervisor, Autumn Becca, recognized his commitment and when she read about local car dealer Orr Nissan hosting a contest to give away a car to a deserving person in our area, she knew that she had to nominate Walter.
Monday, April 29th the surprise was revealed to Walter and his fellow associates. The team from Orr Nissan gathered a group of Walter's coworkers and his new 2010 Nissan outside Catholic Care to surprise him with the announcement that he had been selected. Walter was shocked and humbled as the Catholic Care team cheered for him and the keys were handed over.
Walter has served Catholic Care Center as a member of our housekeeping team for the past twenty years and despite being offered repeated rides from his leadership team, he has diligently biked to work in all types of weather from rain to sun, from snow to wind. Walter is always quick to greet everyone he meets with an infectious smile and is first to spring into action whenever needed. He embodies our Catholic Care commitment of knowing, loving, and serving, and is incredibly deserving of this honor. We are grateful to Orr Nissan for their generous gift and for allowing us to share in this recognition of one of our outstanding employees.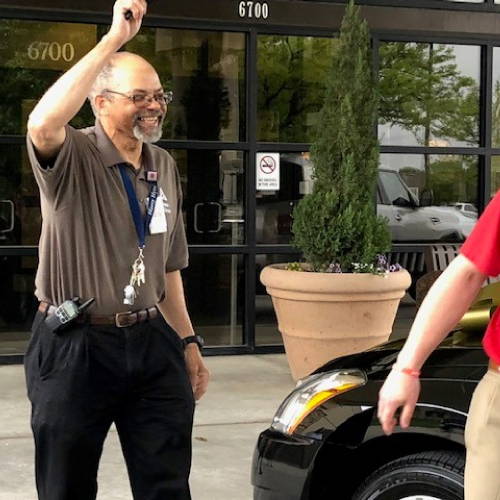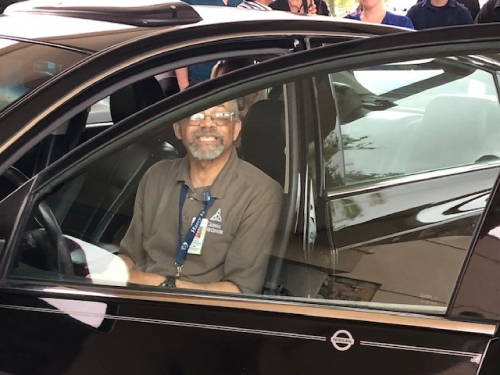 THANK YOU TO EVERYONE WHO PARTICIPATED IN THE PARTY FOR PARKINSON'S 5K RUN & 1 MILE!